Maps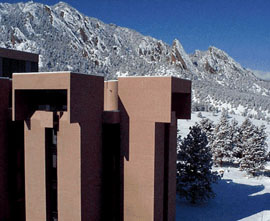 Map from airport
Map of Boulder
Building locations
Ground Transportation
Bus Routes and Schedules:
Take
SkyRide
Route AB to Boulder
303.299.6000, press 1-2-1.
Shuttle Service:
SuperShuttle
Denver/Boulder
303.316.3816.
DIA Ground Transportation Link
Hotel Information
Boulder Hotels
Directions
From the Airport to Boulder
Exit Denver International Airport via Pena Boulevard
Follow traffic signs to "Denver", via I-70 westbound
Exit I-70 on to I-270, direction "Fort Collins/Boulder"
Stay on I-270 as it merges with US 36, direction "Boulder"
From Boulder exit to Foothills Lab
Continue on US 36 to Boulder until you reach the "Foothills Parkway" Exit. This is the same exit as the Table Mesa Drive Exit. The exit splits and you bear right for Table Mesa Drive and left for the Foothills Parkway.
Proceed north on Foothills Parkway until you reach Valmont Road
Turn East (right), then take the first left onto 47th Street.
Turn right on Mitchell Lane at the "UCAR Foothills IV" sign
Continue to the stopsign and then turn left
Follow the road around to the back of the last building
Map of NCAR & UCAR Building Locations